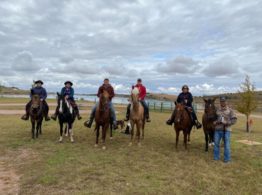 Individual Membership $20/annual
Family Membership $ 35/annual
Please Join Us!

Membership to the Omaha Stockyards Saddle Club, Inc. is non-discriminatory regarding race, religion, age, gender, disability or sexual orientation.
The Omaha Stockyards Saddle Club has been formed for the express purpose of banding together a group of riders and horse enthusiasts who have a common interests, purposes and objectives. That common purpose and objective being:
To foster a closer spirit of comradeship in horse activities among members of the group.
To promote and develop horsemanship skills
To take advantage of the wide experience and knowledge of members of the group
To learn by close association through group sessions better means of handling, caring for and riding horses.
OSY Membership Form
Please submit a Membership form and send in your membership dues to complete registration.
*Currently our online membership form is not working so please fill one out at the next OSY event you attend or we can mail you one upon request to be completed and returned. Thank you and sorry for the inconvenience.
Dues can be submitted via PayPal: by going to www.paypal.com and using our club's email address: osyclub@yahoo.com
OR
Venmo: OSY Saddle Club @Gary-Young-232
OR
Mail to our club Treasurer:
Gary Young
4584 Co. Rd. P43
Ft. Calhoun, NE 68023
Make checks payable to 'Omaha Stockyards Saddle Club'
Individual Membership: $20
Family Membership: $35
Family membership consists of 2 or more members.
Members must be living in the same household to be considered a Family Membership.
Adults are considered 18 years old or above as of January 1st.