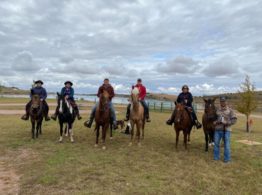 Individual Membership $20 annually
Family Membership $ 35 annually
Membership
Membership to the Omaha Stockyards Saddle Club, Inc. is non-discriminatory regarding race, religion, age, gender, disability or sexual orientation.
The Omaha Stockyards Saddle Club has been formed for the express purpose of banding together a group of riders and horse enthusiasts who have a common interests, purposes and objectives. That common purpose and objective being:
To foster a closer spirit of comradeship in horse activities among members of the group.
To promote and develop horsemanship skills
To take advantage of the wide experience and knowledge of members of the group
To learn by close association through group sessions better means of handling, caring for and riding horses.